Sr. Policy Adviser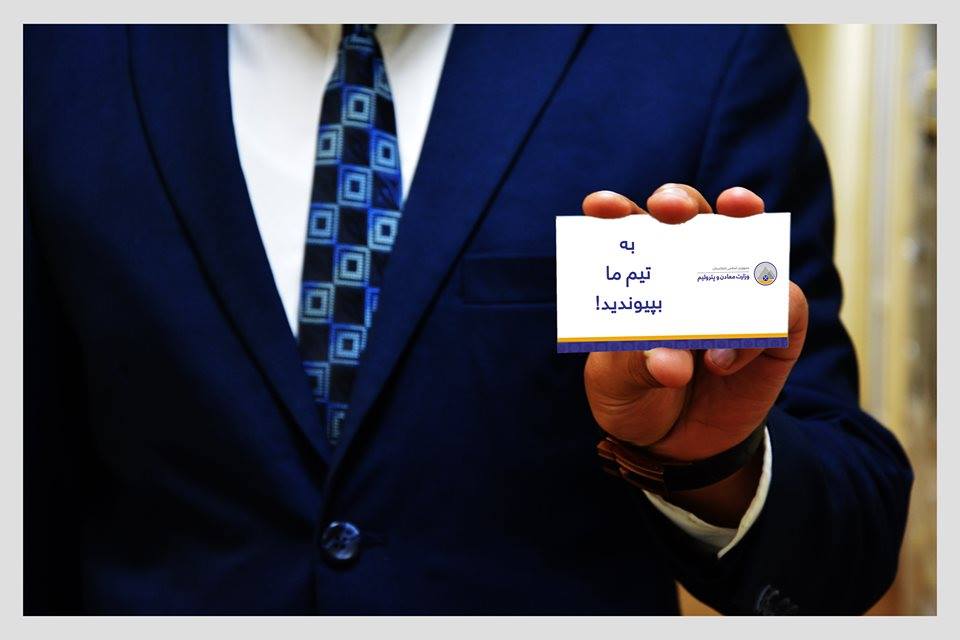 About Ministry of Mines and Petroleum (MoMP):
Ministry of Mines and Petroleum is an enabler of the sector's development and steward of all mineral and hydrocarbon resources through the implementation of international best practice, policies, regulations and procedures to encourage environmentally and socially acceptable private investment. It is the responsibility of the Ministry of Mines and Petroleum to ensure progress in research, exploration, development, and exploitation of both minerals and hydrocarbons. The Ministry of Mines and Petroleum approach is to create the highest level of ministerial competence, promote clear and transparent investment opportunities through modern laws, regulation and policies; and develop a progressive and inviting fiscal regime.
Job Summary:
The Ministry of Mines and Petroleum is seeking an Afghan national for the post of Senior Policy Adviser in the Ministry's Strategy Policy. The Senior Policy Advisor will be responsible to work closely with other advisers in the Policy Unit and colleagues in the Ministry on a range of programmes and activities to address the challenges and opportunities for the sustainable development and governance of Afghanistan's mineral and hydrocarbon resources and extractive industries in line with international best practice.
Skills Required:
Policy And Planning Policies And ProceduresClass ManagementRisk Managment Research & Management Skills
Requires travel to provinces:
No
Skills Description:
Research skills
English language skills
Time management skills
Good communication skills
Office administrative and computing skills
Flexibility and enthusiasm
Ability to participate in discussion and operate as part of a multinational team
Duties & Responsibilities:
1.Develop an action plan on Policy Advisory based on job description.
2.Provide advice and support in all matters related to policy formulation and implementation
affecting the extractive industries in Afghanistan
3.Assist in the drafting and revision of policies and other technical documentation
4.Undertake assigned research relating to policy in the extractive industries
5.Undertake collaborative work with other advisers and Ministry colleagues on a variety of projects
6.Performing any other tasks assigned by the minister on the basis of laws, regulations and objectives
of organization.
7.Take a lead role in drafting and disseminating various materials for policy and advocacy, such as
reports, briefings, and submissions to different key stakeholders, presentations, letters, blogs and other relevant outputs
8.Provides substantive technical expertise and policy advice directly to the Minister, partner
institutions and senior staff in the Ministry in his/her technical area
9.Liaises with the Minister to identify and/or create policies that would help accelerate Liberia's Private Sector growth as well as encourage more foreign investment
10. Generates editorials for public relations purposes such as articles
for the Ministry website, newsletters or brochures
11. In support of the aforementioned task, be responsible for
coaching and mentoring of senior Ministry staff, trainees, and junior
professionals
12. Any other tasks and duties assigned by H.E. the Minister
Job Location:
Afghanistan, Kabul
Qualifications:
At least Bachelor or Master's degree in public policy, political economy, government, Business Administration or a related field
At least 5-10 years of experience in relevant field. 10 years of relevant experience with Bachelor degree and 5 years of relevant experience with Master degree in the public or private sector related to the field
Ability to draft policies and other technical documentation
S/he should possess excellent writing, editing, and speaking skills in Dari, Pashto and English.
Priority will be given to candidates who demonstrate a high level of motivation and good communication, hardworking and interpersonal skills
S/he must be well versed in MS Word, Excel, Access, and PowerPoint and etc.
Job Keywords:
Sr. Policy Adviser
Submission Guideline:
Applicants are requested to submit a complete application package which must include all required documents (provided below) to recruitment.momp.psu@gmail.com with a Subject line
MoMP/PSU/Senior Policy Advisor Applications must be received by no later than .14 October, 2019.
REQUIRED DOCUMENTS:
a.     Cover memo/email text that outlines how your qualifications and experience meet the selection criteria.
b.      A current resume or curriculum vitae.
Note: IN ORDER TO HAVE YOUR APPLICATION CONSIDERED, YOU MUST SUBMIT ALL REQUIRED DOCUMENTS, MENTIONING THE SUBJECT LINE. IF YOU OMIT ANY OF THE REQUIRED DOCUMENTS, COVER PAGE, CV. YOUR APPLICATION WILL NOT BE CONSIDERED.
Attention: Development Projects HR Unit, 4th floor, Main Building Ministry of Mines and Petroleum (MoMP), At Abdul Haq Square.
Ahmad Siar Najib: Projects HR Coordinator
Contact details: 0093 (0) 784 846 000
Female Candidates are highly encourage to participate.